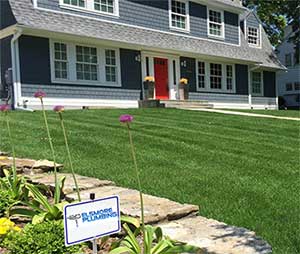 Isn't it exciting – the first official day of summer is June 21! After a long winter and that final snow in the middle of April, we're not going to complain about the recent heat wave. Now that summer is just about here, and the sun is blazing down on your lawn for longer (the summer solstice ain't no joke – we're talking 15.5 hours of sunlight!), it's time to make sure your sprinkler system is functioning optimally.
At Elsmore Plumbing, we offer sprinkler repair for just about every irrigation system under the sun. We can handle lawn irrigation system start-ups, replace sprinkler heads and controller clocks, inspect your sprinkler system for issues, and we can make all kinds of adjustments. We even do sprinkler winterization… Sorry about that, we may have gotten a little too carried away talking about our sprinkler repair services and we forgot we shouldn't have mentioned the season that shall not be named this early in the year.
Check out the full list of our sprinkler and lawn irrigation services.
Need sprinklers repaired or have questions about your plumbing?
Call Elsmore Plumbing at 507-254-8680 or email us at ElsmorePlumbing@gmail.com.
For greater peace of mind, hire a professional to get the job done right the first time. Saving a couple hundred dollars isn't worth exposing your home and family to the risk of a burst pipe or major leak, which can cost you thousands.