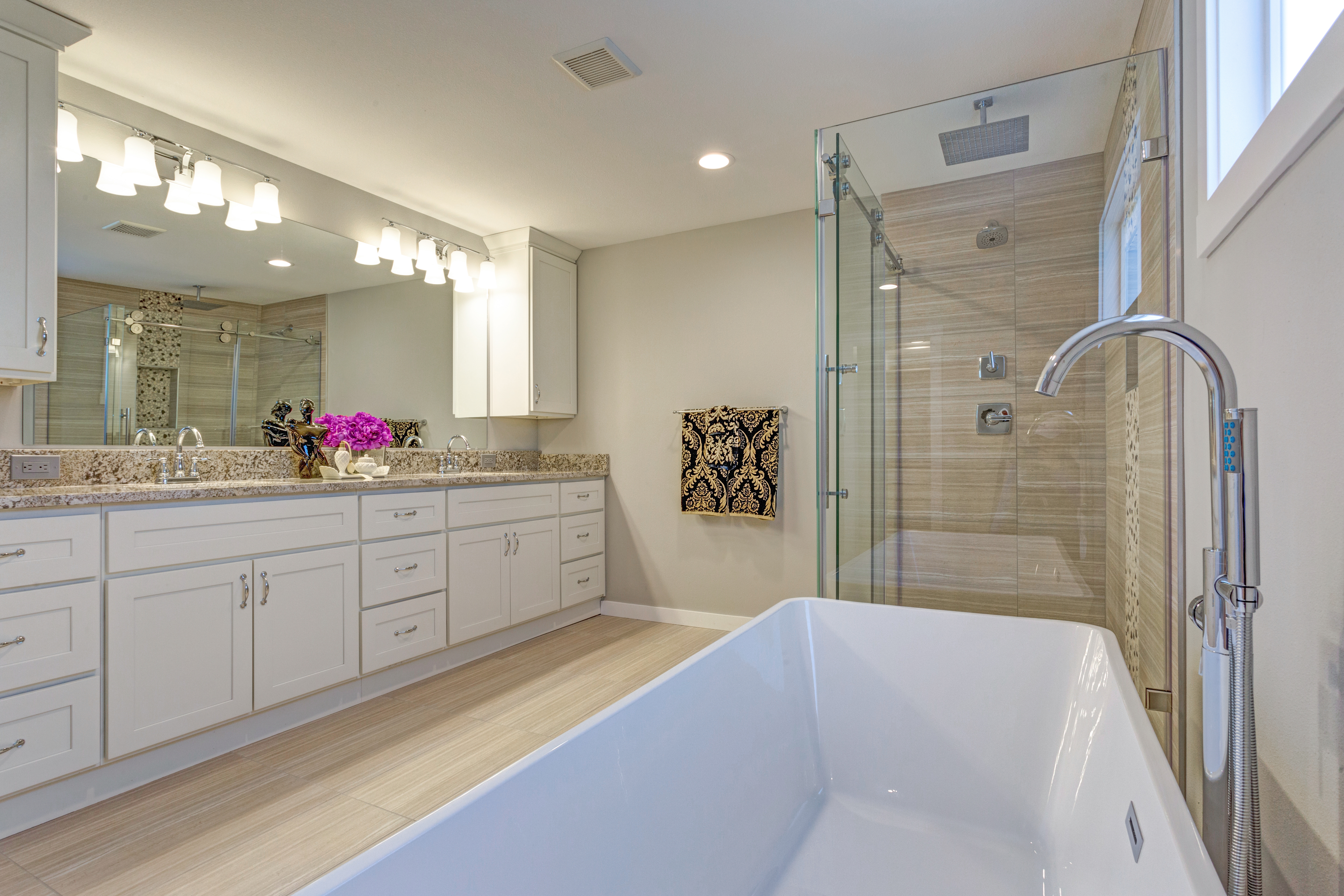 Customizability, functionality, and durability are all important concepts to keep in the forefront of your mind when planning a bathroom remodel. Looking at the bigger picture, customizing your bathroom remodeling plans can seem like an overwhelming task. But partnering with a professional can make bathroom remodeling a far less daunting project. To help break it down, here are our top 3 tips for your next bathroom remodel.
Don't Use a Bathtub? Don't Install One!
Some may argue that including a bathtub in your bathroom will enhance the appeal to potential or future buyers. While a tub can add functionality in the space, buyers are no longer valuing them as much as before. For those who utilize bathtubs in their space frequently, a tub is a great addition. There are many variations of bathtubs and features that can enhance this type of space. With growing uses for technology, bathtubs have started to integrate features such as music, chromatherapy, and digital controls – taking baths to a new level. But, for those who don't use bathtubs as often, it may be worth including a larger shower area instead. When adding more space in the shower, features like seating, storage, and multiple shower heads can greatly enhance your space and its functionality.
Choosing the Right Bathroom Lighting
Bathrooms aren't exactly known for their abundance of natural lighting. When ample lighting is required for daily tasks such as shaving, applying makeup, and styling hair, it's important to consider how lighting can be incorporated. Although natural lighting should be utilized if possible, sometimes it's not very easily accessible. In which case, artificial lighting can enhance the functionality and ambiance of your space. Placement of artificial lighting should be concentrated in areas where tasks requiring light occur, such as the shower or the sink area. When considering ambiance, light dimmers can give your bathroom a relaxing, spa-like feeling.
Short Term Savings = Long Term Expenses
Cutting corners on costs often leads to larger, long-term expenses. Consider durability when deciding on materials used for flooring, countertops, and features. This can help you save more in the long haul. We suggest choosing porcelain for bathroom flooring, countertops, and features. Not only is it durable, it's also low-maintenance, high-quality, and easy to clean. In a space that's as frequently cleaned and wet as bathrooms, porcelain's water- and stain-proof functionalities can create peace of mind.
Utilizing these 3 bathroom remodeling tips can ensure your space is functional, personalized, and built-to-last. Elsmore Plumbing specializes in bathroom remodeling, and is here to answer any questions you may have. Remodels can seem daunting. Our team is here to work with you through the process and deliver a bathroom that fits your unique needs.